2900-3200 Psi Pressure Washer Pump For Craftsman Subaru 190 Kohler Honda GCV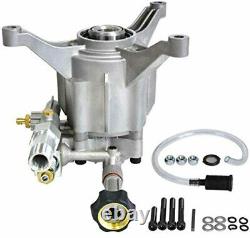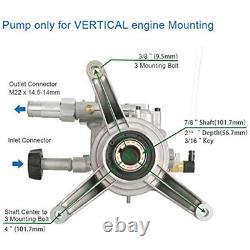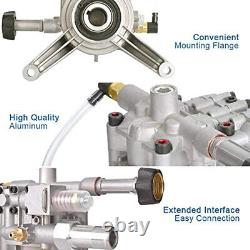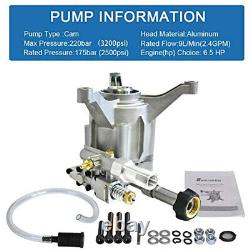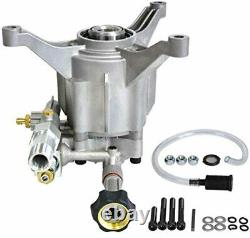 60 Days return accepted, please check before purchasing to make sure it will work for your needs. Fit 7/8" Shaft Vertical PumpFit Most 7/8" Shaft Vertical Crank Pressure Washer Engines, brands including Honda GCV, Generac, Briggs, Idea choice for replacement pumps. Easy Start Built in for simple & quick cold starts to make the startup a breeze, no need to release pressure before starting engine. Easy to InstallWhen installing the power washer pump, please ensure that the keyway is installed before running your pressure washer.
Sale and After-Sale ServiceMake sure bolts will fit for your machine. The provides a convenient connection to most 7/8 diameter shaft, if you are not sure your high pressure washer could fit or not, please inform us your engine model, install size, we would like to service you. Pressure Washer PumpDirect drive vertical axial pump fits most vertical shaft power washers: Could work at wide range from 2900 to 3200 PSI, best performance at 3000PSI and 2.4GPM. Good replacment for vertical pressure washer pumps.
Rated Flow: 9L/Min(2.4GPM). Engine HP Choice: 6.5 HP. Basic Feature:Low Pressure Deterent injection, Thermal Relief Valve, Pre-Oiled Ready to go! Pressure water pumps are the most important part of a pressure washer. They power through to deliver water at high speeds.
SurmountWay provides an efficient Vertical Axial Pressure Washer Pump Kit, minimizes engine load while delivering good performance. Direct drive vertical Axial power washer Pump. 7/8 shaft & SAE gas engine flange produces up to 2.4 GPM, suitable for homeowner units. Engines : Fits Honda(only 3/4 shaft), Briggs & Stratton, Craftsman, Karcher, Blackmax, Ryobi, Troy Bilt, Craftsman, Simpson, Troybilt, Powerstroke. OEM troy build pump, EXCLUSIVELY FOR vertical ENGINES WITH A 7/8 SHAFT.
Choose the Right Replacement Pump. This pump is Exclusively for Vertical engines with a 7/8" shaft(Does Not Fit engine with 3/4" shaft). Mount the New Pressure Washer Pump. Install the shaft key into the keyway and push the pump completely onto the engine.
Then Install all three bolts and tighten evenly. The powerful pressure washer pump generates impressive 3200 PSI with a 2.4 GPM flow rate for tackling tough dirt and debris, can get the job done quickly! If low pressure symptoms, Just do as follows. Replace with nozzle of proper size.
Tighten or replace with correct belt. Air leak in inlet plumbing.
Relief valve stuck, partially plugged or improperly. Clean and adjust relief valve;check for worn or dirty valve seats. Adjusted valve seat worn Worn. Abrasive in pumped in cavitation.
Install proper filter suction at inlet manifold must be limited to lifting less than 20 feet of water or 8.5 psi. Worn inlet, discharge valve blocked or dirty. Replace inlet and discharge valve.