PRESSURE WASHER Commercial Portable 4 GPM 4000 PSI 13 Hp Honda CAT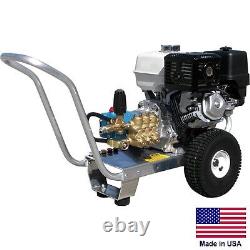 Description: Cold Water Portable Pressure Washer - Commercial/Industrial. Features: 4 GPM - 4000 PSI - 13 Hp Honda Engine - CAT Pump - Direct Drive - Recoil Start - Includes 50 Ft High Pressure Hose with Quick Connects, Gun/Wand Assembly, 4 Color Coded QC Spray Nozzles & 1 Color Coded Chemical Nozzle, 50 Mesh Inlet Filter - Low Oil Shutdown - 3/4 Cold-Rolled Steel Threaded Axle - Thermo-Sensor Prevents Overheating in Bypass Mode - Adjustable Pressure Unloader - Aircraft Grade Aluminum Frame - Pneumatic Tires - Shock Absorbing Feet - Made in the USA.
SEE OUR FULL LINE OF PRESSURE WASHERS & ACCESSORIES. BY FOLLOWING THIS LINK: OUR PRESSURE WASHERS & ACCESSORIES LINE. This Series of Commercial Portable Engine Driven Cold Water Pressure Washers are Available in the Following Configurations.
Flows: 3 to 4 GPM. Pressures: 2,700 to 4,200 PSI.
Engines: 6.5 Hp Honda GX200, 6.5 Hp Kohler SH265, 6 Hp Subaru EX170, 8 Hp Honda GX270, 9 Hp Subaru EX270, 13 Hp Honda GX390 and 14 Hp Kohler CH440. Pumps: CAT, GP, AR and Viper. This pressure washer is also available in a skid mounted configuration (please inquire). We carry a full line of parts, components and accessories for all of our pressure washers throughout the year. Ask us about our line of engines (Honda, Subaru, Kubota, Kohler and Vanguard), pumps (CAT, AR, GP and HP), chemical and diaphragm pumps (Hypro and Shurflo), belts, seal kits, unloaders, spray guns, extending wands, surface cleaners, lances, nozzles, hose reels, hose assemblies, plumbing fittings, electrical components, burners and burner components, trailers, carts, wheel kits and skid frames.
Commercial Portable Engine Driven Cold Water Pressure Washer. Our USA made heavy duty engine driven pressure washers are available in cold and hot water systems and are designed for commercial and industrial applications.
Standard features include gun/wand assembly with quick connects, 50 ft of commercial grade high pressure hose with quick connects and color-coded QC spray nozzles and chemical nozzles. Pressure Washer Type: Portable - Direct Drive - Cold Water - Commercial. Start Type: Recoil (electric start available - see Optional Items below).
Gun/Wand: Included with Quick Connects. Hose Included: 50 Ft High Pressure with Quick Connects.
Spray Nozzles Included: 4 - with Quick Connects. Chemical Nozzle Included: 1 - with Quick Connects. Wheels & Feet: Pneumatic Tires - Dual Shock Absorbing Feet. Frame: Aluminum - Aircraft Grade. Axle: 3/4 Cold Rolled Steel - Threaded. Note : the photo displayed in this listing is our most popular configured pressure washer in this series, the engines and pumps vary throughout the models in this series. Please see above specs for the exact components included with this pressure washer.
Optional Item : Model VIRSMC - Skid Mounted Configuration - Powder Coated Steel or Aircraft Grade Aluminum. Optional Item : Model VIRBMK7UNL - K7 Unloader - Block Mounted - 3500 PSI Maximum. Optional Item : Model VIRMCB125 - Cover - Protects Unit from Weather. Optional Item : Model VIRESGX390 - Electric Start Available for Honda GX390 Only in the Series (please inquire Toll Free at).