PRESSURE WASHER Commercial Portable 4 GPM 4000 PSI 13 Hp Honda HP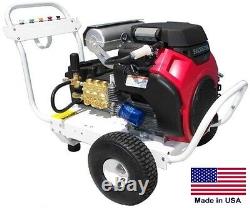 Description: Cold Water Portable Pressure Washer - Commercial/Industrial. Features: 4 GPM - 4000 PSI - 13 Hp Honda Engine - HP Pump - Belt Driven - Recoil Start - Remote 6 Gallon Poly Fuel Tank - Includes 50 Ft High Pressure Hose with Quick Connects, Gun/Wand Assembly, Chemical Injector with Quick Connects, 4 Color Coded QC Spray Nozzles and 1 Color Coded QC Chemical Nozzle - Aircraft Grade Aluminum Frame with Epoxy Powder Coat Finish - Pneumatic Tires - Spring Cushioned Shock Absorbing Feet - 3/4 Solid Steel Threaded Axle - Low Speed Pump and Thermo-Sensor - Made in the USA. SEE OUR FULL LINE OF PRESSURE WASHERS & ACCESSORIES.
BY FOLLOWING THIS LINK: OUR PRESSURE WASHERS & ACCESSORIES LINE. This Series of Commercial Portable Engine Driven Cold Water Pressure Washers are Available in the Following Configurations. Flows: 4 to 15 GPM. Pressures: 2,000 to 7,000 PSI. Engines: 13 Hp Honda GX390, 20 Hp Honda GX630, 24 Hp Honda GX690, 26 Hp Kohler CH750 & 37 Hp Kohler CH1000.
Pumps: CAT, HP, GP and AR. ALSO AVAILABLE IN A SKID MOUNTED CONFIGURATION - PLEASE INQUIRE TOLL FREE AT. We carry a full line of parts, components and accessories for all of our pressure washers throughout the year. Ask us about our line of engines (Honda, Subaru, Kubota, Kohler and Vanguard), pumps (CAT, AR, GP and HP), chemical and diaphragm pumps (Hypro and Shurflo), belts, seal kits, unloaders, spray guns, extending wands, surface cleaners, lances, nozzles, hose reels, hose assemblies, plumbing fittings, electrical components, burners and burner components, trailers, carts, wheel kits and skid frames. As our Experts Toll Free at.
Commercial/Industrial Portable Engine Driven Cold Water Pressure Washer. Our USA made heavy duty engine driven pressure washers are available in cold and hot water systems and are designed for commercial and industrial applications. Standard features include gun/wand assembly with quick connects, 50 ft of commercial grade high pressure hose with quick connects and color-coded QC spray nozzles and chemical nozzles.
Pressure Washer Type: Portable - Belt Drive - Cold Water - Commercial/Industrial. Start Type: Recoil (optional electric start available - see Optional Items below). Fuel Tank: 6 Gallon - Polyethylene (not CARB Certified for use in CA - see CARB Certified upgrade in Optional Items below).
Drive System: Belt - Gates Polychain Cogged Belt. Chemical Injector: Included - with Quick Connects. Gun/Wand Included: with Quick Connects. Hose Included: 50 Ft High Pressure with Quick Connects.
Spray Nozzles Included: 4 - Color Coded - with Quick Connects. Chemical Nozzle Included: 1 - Color Coded - with Quick Connects. Frame: Aluminum - Aircraft Grade - Epoxy Powder Coat Finish. Axle: 3/4 Cold Rolled Steel - Threaded. Note : the photo displayed in this listing is our most popular configured pressure washer in this series, the engines and pumps vary throughout the models in this series. Please see above specs for the exact components included with this pressure washer. Optional Item : Model VIRCCK006 - CA CARB Compliant Configuration - Includes Remote 6 Gallon Polyethylene Fuel Tank with Carbon Canister (please inquire Toll Free at). Overall Dimensions: 46" L x 26" W x 26 H (overall dimensions are approxiate and vary by configuration in this series).