Pressure Washer Power Pump Horizontal Triplex 3700 PSI 2.5 GPM 3/4 Shaft Kit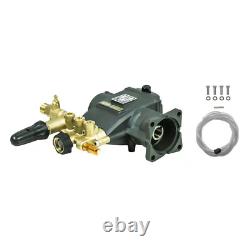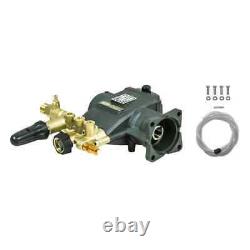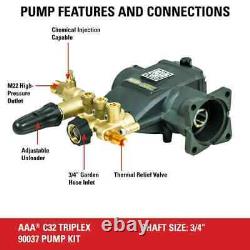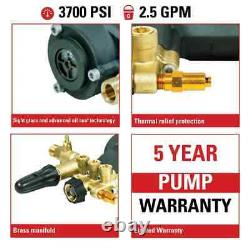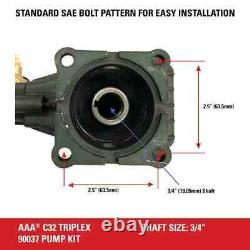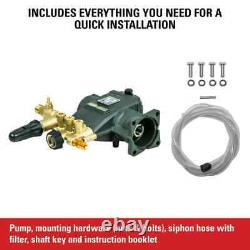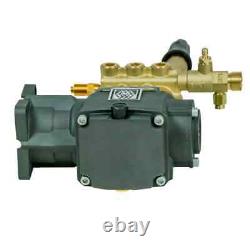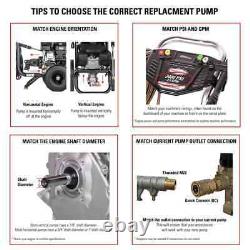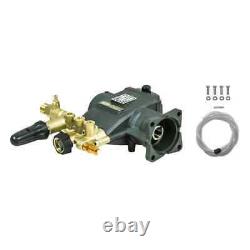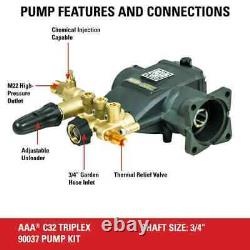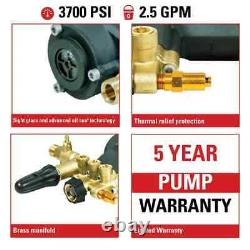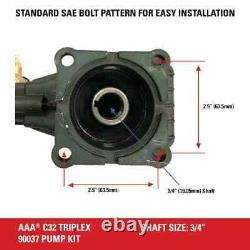 Replace your pressure washer pump with this easy-to-install kit. PowerBoost Technology delivers a more efficient cleaning.
Advanced oil seal technology eliminates the need for a dipstick. Engineered to surpass expectations, the 90037 AAA Professional Triplex Pump is highly efficient and minimizes engine load while delivering top performance. This easy-to-install pump replacement kit is for gas pressure washers with a horizontal engine and a 3/4 diameter shaft, such as the Honda GX200. This pump can produce up to 3700 PSI at 2.5 GPM.
The 90037 is designed with dual oversized ball bearings to reduce friction and allow for long lasting performance in the toughest cleaning environments. The 90037 features a stainless steel integrated unloader featuring our easy-start system.
Whether you're looking for a replacement part or an accessory to enhance your cleaning experience, SIMPSON has the right one for you! Our accessories provide more cleaning options for the homeowner and professional to get the job done efficiently. Many of our accessories are designed to fit most gas and electric pressure washers. This easy-to-install kit is great for power washers that can support 3700 PSI at 2.5 GPM to wash walls, fences, sidewalks, vehicles, and more. Easy Installation: This replacement pump features a garden hose inlet and threaded M22 connection high pressure hose outlet.
The SAE standard bolt pattern that fits most gas-powered pressure washers. Each kit includes a siphon tube with filter, mounting bolts, shaft key, and instruction booklet to get your machine back in action as quickly as possible. Adjustable Power: This pump includes PowerBoost Technology that delivers higher pressure at the nozzle for a more efficient cleaning experience. There is also a hand turn knob that lets you reduce power at your convenience for tasks that require lower pressure. Know When to Change Your Oil: The sight glass and advanced oil seal technology eliminates the need for a dipstick. With visibility to the oil level and the oil itself, you can easily see when oil levels are low or if water has clouded the oil.
Get the Right Pump for Your Machine: This pump is designed for gas powered pressure washers with horizontal engines. Its SAE bolt pattern, hardware, and standard connections make it a great fit for many brands and models of power washers. Sight glass and advanced oil seal technology eliminates the need for a dipstick.
Designed to fit most makes and models of gas pressure washers with horizontal engines. Be sure to check and measure relevant sizes and dimensions as well. If the details above are not clear, please message us. Message us to let us know what you need & we'll do our best to source the products for you!
If your item is missing a part or has a damaged part, please message us before you assemble it, and we will help you. We strive to provide amazing customer service.
If this is not the case, please message us and give us the opportunity to correct any issues you may have. It goes a long way to help support our family owned business and it lets our buyers know we're providing good service! Orders are dispatched to our warehouses as soon as they are received. For this reason, we are often unable to cancel orders too long after they have been placed. We always try to accommodate our buyers' requests if possible, but if we are unable to cancel your order, you can initiate a return once the item arrives. Thank you for shopping with us!
We truly appreciate your business!