Pressure Washer Pump 2800 PSI Honda Black Max BH80913 BM802711 Excell EXHA2425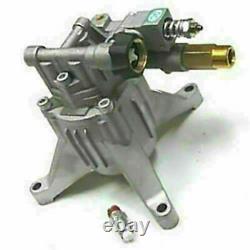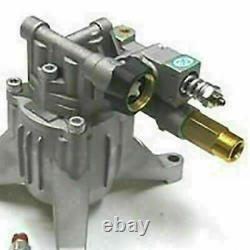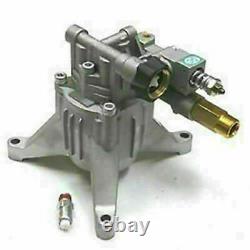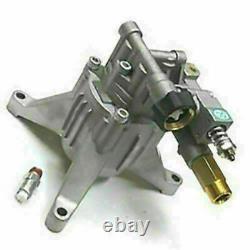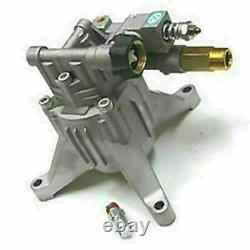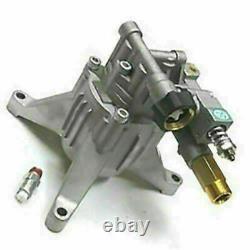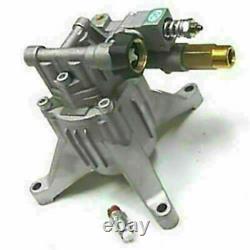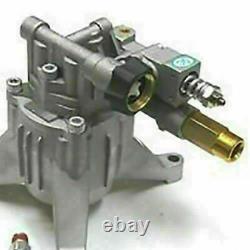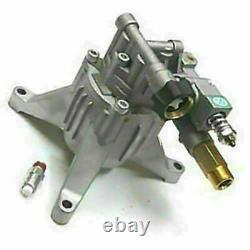 Brand New Universal Pressure Washer Pump 2800 PSI 2.5 GPM fits Honda Black Max BM802711 Subaru 308653052 UT80993A 27000, Honda powered Excell EXHA2425 Devilbiss serial # 0000448634. Patio Lawn Garden Mowers Outdoor Power Tools Replacement Parts.
Pumps Pressure Washer Parts Accessories. Brand New Pressure Washer Pump. Pressure Washer Pump, 2800psi, Vertical 308653045 /308653052. 2.5 gallons per minute. Pre-filled with oil and ready to use. Spacing between Mounting Bolts: 7 11/16" - 6 3/16" - 6 7/16.
7/8 shaft Fits Honda GC135, GX140 GC160. Briggs and Kohler engines with 7/8 inch diameter. Shaft Will NOT fit 3/4 shaft motors, these motors require a different pump.
Thermal Relief Valve IS Included but will need to be installed opposite the inlet fitting. Compatible with Many Brands of Homelite Husky Ryobi WorkForce Pressure Washers.
Fits Karcher, Generac, Blackmax, Craftsman, Briggs, Honda, Powerstroke. Homelite UT80993 UT80993A 2700 PSI GC80747.
Husky 2600 psi # HU80722 HU80174. Honda 160 Troy-BILT 2500 PSI 2.3 gpm. Honda Black Max moter bh80913 model. Honda Black Max BM802711 Subaru motor 308653052 Homelite UT80993A 27,000.
Honda brute 2700 psi 2.3 cpm Briggs motor: 020586. Honda gcv 190 part 308653008. Honda powered Excell EXHA2425 horizontal Devilbiss serial # 0000448634. Annovi Reverberi RMW22G24 EZ-SX pump. Briggs & Stratton 5.5 HP Motor.
Briggs and Stratton 020554 pressure washer. Campbell Hausfeld 2200 Power Washer. Craftsman 6.75 HP Engine. Generac 2300 PSI 01674 Power Washer.
Homelite powerwasher 2700 w Honda engine. Honda 2700 psi pressure cleaner. Husky Homelite HU80432A Honda GCV 190 engine. Husky Model HU80709 pressure washer. Sears Craftsman model 580.752610 pressure washer. GC80747 G-Clean, HL80833 3-N-1 Hi-Speed Gasoline, HL80835 3-N-1 Hi-Speed Gasoline, HLCA80710, HU80709, HU80709A, HU80714, HU80715, HU80722, HU80722A, HU80833 3-N-1 Hi-Speed Gasoline, HU80833A 3-N-1 Hi-Speed Gasoline, HU80911, HU80911A, HU80915, HUCA80709A, PS262311, PS80944, PS80946, PS80979, PS80979A, Ryobi RY80930, UT80709, UT80709A, UT80835 3-N-1 Hi-Speed, UT80911, UT80911A, UT80933 3-N-1 Hi-Speed, UT80993, UT80993A 2700 PSI Gas, UT80993B, UT80993D, UT80993E, UT80993F, WF80710, WF80911. Package Height: 8.1 x 8.4 x 8.6 inches. Item Weight: 5.8 pounds. This item is in the category "Home & Garden\Yard, Garden & Outdoor Living\Outdoor Power Equipment\Pressure Washers". The seller is "dane791" and is located in this country: US. This item can be shipped to United States.
Replacement Part 2: UT80835 UT80933 UT80993 UT80993A 2700 PSI GC80747
Replacement Part 3: HLCA80710 HU80709 HU80911 HU80709A HU80911A
Replacement Part 4: HU80714 HU80915 HU80715 HU80722 HU80722A
Replacement Part 5: HU80833 HU80833A HUCA80709A PS262311 PS80944
Replacement Part 6: PS80946 PS80979 PS80979A UT80993B UT80993D
Replacement Part 7: WF80710 WF80911 HL80835 UT80993E UT80993F
Fits Honda 1: Honda Black Max moter bh80913 model
Manufacturer: AE-Parts
EAN: 0848521001591
Delivery: USA Warehouse Fast Free Shipping 1-5 Business Days
Features: 2800 psi 2.5 gallons per minute GPM
Product: Universal Pressure Washer Pump 2800 PSI
Fits Honda: 7/8" shaft Fits Honda GC135, GX140 GC160
Fits Briggs and Kohler: Briggs and Kohler engines with 7/8 inch diameter
Replacement Parts: 308653045 308653052 Ryobi RY80930
Type 1: Patio Lawn Garden Mowers Outdoor Power Tools Parts
Type 2: Pumps Pressure Washer Replacement Parts Accessories
Compatible with: Homelite Husky Ryobi Pressure Washers
Fits for: Karcher Generac Blackmax Craftsman Powerstroke
Replacement Part 1: Homelite HL80833 UT80709 UT80911 UT80911A UT80709A
UPC: 0071195045831
MPN: 308653052
Maximum Pressure: 2800 psi