Pressure Washer Pump For Troy-Built 2600 with 160cc Honda motor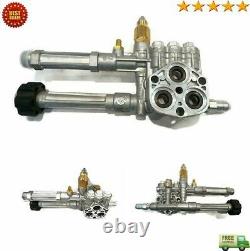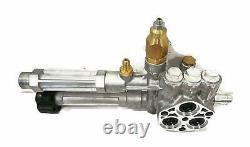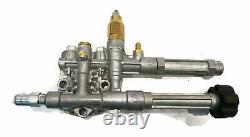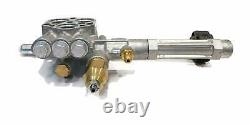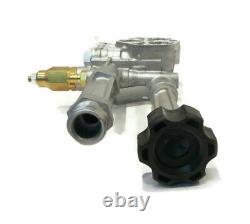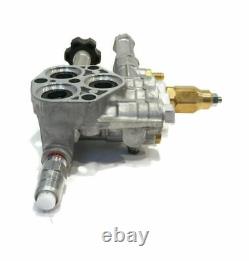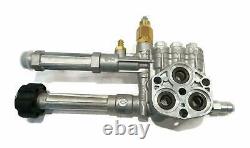 Pressure Washer Pump For Troy-Built 2600 with 160cc Honda motor. 100% Brand New High Quality.
This pump head is designed to fit the RMW2G20 / RMW2G23 / RMW2G24 / RMW2.2G24 / SRMW2.2G26 pumps. It comes complete with all the seals, unloader, check valves, chemical injector, ez start valve, inlet and outlet tubes and thermal valve. Verify that the pistons are moving in the crankcase. If they are just use this head.
It fits both the standard (labeled as EZ) and the EZ-SX version of the pump. If you have the RMW2.5G28 or SRMW2.4G28 this head will NOT work. Fits RMW2.2G24 and SRMW2.2G26 Pumps. Pump srmw 2.2g26 318644. Troy bilt 020292-2 rmw 2.2g20 pump.
Troy Bilt 020416 3000psi 2.7 gpm. Troy Bilt Briggs Stratton 020568 2800 psi pump srmw 2 2626318644. Troy bilt model 020414 s/n 1018382982 Pump 311966gs.
Troy-Bilt 020337, revisions 1 or 2. Please check out your address carefully when processing order.
We care about our valued customers, and will always try to help you. Please give us the opportunity to resolve any problem. We understand the concerns and frustrations you might have, and we try our best to resolve the problem. This item is in the category "Home & Garden\Yard, Garden & Outdoor Living\Outdoor Power Equipment\Pressure Washers".
This item can be shipped to United States.
Category: Pressure Washers
Product: Troy Bilt SRMW2.2G26 Complete Pump Head Assy
shipping: free shipping
Craftsman: 580.752190 580.752192 580.752520
Manufacturer: Dkii
Troy Bilt 4: TroyBilt 020344 020414 1018382982 Pump 311966g
Troy Bilt 3: Briggs & Stratton 020568 2800 psi pump srmw 2 2626318644
Replaces 2: RMW2.2G24-EX RMW2.2G24-Ex-SZ RMW2G20 RMW2G23
Troy Bilt 2: 020416 3000psi 2.7 gpm, 020489 020568 020676
Fits Excel: Excel VR2500 with a Briggs and Stratton engine
Troy Bilt 1: 020486, 020292-2 rmw 2.2g20, 020296 020414 020415
Replaces 1: SRMW2.2G26 RMW2.2G24 SRMW2.2G26-EZ SRMW2.2G26-EZ-SX
Troy Bilt 5: Troy Built 020337, revisions 1 or 2
For: RMW2.2G24 AR42518 Pressure Washer Pump
Craftsman 2: 580.752521 580.752870 752531
Replaces: RMW2G20 RMW2G23 RMW2G24 RMW2.2G24 SRMW2.2G26
Modified Item: No
Type: Pressure Washer Pump
location item: USA
EAN: 0852671937150
Shipping Weight: 1.75 pounds
Model: Craftsman 580.752870 580.752190 580.752521 580754911
Husky: hu80722
Fits Craftsman 1: 580.752870 580.752190 580.752521 580754911
Maximum Pressure: 2500 psi
Fits Craftsman 2: 580.752871 580.752192 580.752870 752531